Inline Exhibits Brochure
26 page brochure with 35 display photos.
Get Brochure >>
Face Value Video
See high-res pictures of dozens of great designs.
Get Video >>
Modular Tables & Kiosks: Add function to your exhibit or create stand-alone display kiosk
Do you need space for storage of literature, product or personal items within your exhibit? How about an easily accessible surface for taking leads, displaying products or offering giveaways? Skyline's stylish tables and kiosks can enhance the performance of your exhibit.
Marketing kiosks for presentations and product display
Create highly-functional kiosks for use within your exhibit or in stand-alone applications. Versatile Skyline Marketing Kiosks uses a combination of graphics, AV equipment and shelving to create kiosks that are perfect for product display or interactive presentations.
NEW! Occasions® Custom Modular Table
Multi-Talented and Full of Advantages! Occasions gives your brand a powerful presence and provides the functionality needed for effective face-to-face marketing.

Learn more about Occasions! Click Play!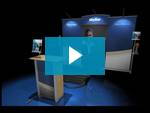 New Large Monitor Station
Get the value of video and digital presentations with style, ease and flexibility! Skyline's modular Large Monitor Station is great for trade shows and many more applications.