Skyline Portable Trade Show Displays: Impact and convenience
Skyline has a variety of portable trade show systems that offer big graphics and a professional look, yet are lightweight, simple to install, and pack small for easy transport.
Highest quality displays keep you looking your best
Skyline systems are built with the most durable materials to our high quality standards, giving you a display that will perform for years and proudly represent your valuable brand.
NEW! Arrive® Portable Display & Workstation
Single-case portability! With Arrive, you get an entire display and functional workstation in one easy-to-manage case. In minutes, Arrive converts from protective case to stylish workstation. More about Arrive...

Arrive with Style & Ease! Click Play!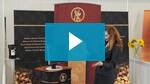 Trade show exhibitors rank Skyline #1
Trade show professionals named Skyline the runaway market leader in portable exhibits in a survey sponsored by EXHIBITOR magazine.
#1 Quality/Durability
#1 Level of Service
#1 Quality of Graphics
#1 Overall Pricing/Value
#1 Leadership
Buyers Choice Award Winner!
New DesignView® voted best new product at EXHIBITOR 2009. See DesignView®